Build Your Dream Lake House
Lake Berryessa Building Moratorium has been lifted! Lots are starting to sell!
Build Your Lake Home Now!


About Lake Berryessa:
Lake Berryessa is the largest lake in Napa County, California. This reservoir is formed by the Monticello Dam, which provides water and hydroelectricity to the North Bay region of the San Francisco Bay Area.

The lake was named for the first European settlers in the Berryessa Valley, José Jesús and Sexto "Sisto" Berrelleza (a Basque surname, Anglicized to "Berreyesa", then later respelled "Berryessa"), who were granted Rancho Las Putas in 1843.

Prior to its inundation, the valley was an agricultural region, whose soils were considered among the finest in the country. The main town in the valley, Monticello, was abandoned in order to construct the reservoir. This abandonment was chronicled by the photographers Dorothea Lange and Pirkle Jones in their book Death of a Valley. Construction of Monticello Dam began in 1953,[3] completed in 1958, and the reservoir filled by 1963, creating what at the time was the second-largest reservoir in California after Shasta Lake. The Monticello Dam with Lake Berryessa, Putah Diversion Dam with Lake Solano, and associated water distribution systems and lands are known collectively as the Solano Project, which is distinct from other federal water projects in California such as the Central Valley Project.

The lake has been heavily used for recreational purposes and encompases over 20,000 acres (80 km²) when full. The reservoir is approximately 15.5 miles (25 km) long but only 3 miles (5 km) wide. It has approximately 165 miles (265 km) of shoreline. It has a seaplane landing area that is open to the public. One of the larger islands supported a small plane landing area but was closed in the early 1970s after the FAA issued a safety report.

Near the dam on the southeast side of the reservoir is an open bell-mouth spillway, 72 feet (22 m) in diameter, which is known as the Glory Hole. The pipe has a straight drop of 200 feet (61 m), and the diameter shrinks down to about 28 feet (8.5 m). The spillway has a maximum capacity of 48.000 cfs (1360 cms).

The lake is fed by the head waters to the 576-square-mile (1,490 km²) Putah Creek watershed. It has a storage capacity of 1,602,000 acre feet (1.976×109 m3), making it one of the larger reservoirs in California.

Though the lake and Monticello Dam are in Napa County, the water yield of up to about 245,000 acre-feet per year from the Solano Project is largely contracted to Solano County Water Agency and managed under subcontract by Solano Irrigation District for use in Solano County. The water is used for agricultural, municipal, and industrial purposes under a contract for use of water rights held by the federal Bureau of Reclamation. Another contract allows for use of up to 1,500 acre-feet of water per year around Lake Berryessa in Napa County. The 25-year contracts were renewed in 2009. The Monticello Dam Powerplant built in 1983 generates up to 12 MW of hydroelectric power. A settlement of water right claims to Putah Creek was made in 2000. Known as the Putah Creek Accord, it allowed for scheduled instream flows in lower Putah Creek flowing to the Yolo Bypass. Water rights for the watershed above Monticello Dam were amended in 1996.
Area Highlights
The National Weather Service has maintained a cooperative weather station at the lake since November 1, 1957. Records show that the area has hot, mostly dry summers and cool, wet winters. Normal January temperatures are a maximum of 57.7 °F (14.3 °C) and a minimum of 36.1 °F (2.3 °C). Normal July temperatures are a maximum of 93.8 °F (34.3 °C) and a minimum of 57.3 °F (14.1 °C). There an average of 80.1 days with highs of 90 °F (32 °C) or higher and an average of 28.0 days with lows of 32 °F (0 °C) or lower.

The record high temperature was 115 °F (46 °C) on July 24, 2006. The record low temperature was 13 °F (−11 °C) on December 22, 1990.

The wettest year was 1983 with 56.94 inches (1,446 mm) and the driest year was 1976 with 7.78 inches (198 mm). The most precipitation in one month was 21.33 inches (542 mm) in January 1995. The most precipitation in 24 hours was 5.29 inches (134 mm) on December 31, 2005. Snowfall is very rare, but 0.4 inches (10 mm) fell in January 1974.
Popular activities include fishing, waterskiing, jet skiing, pleasure boating, kayaking and canoeing, hiking, road bicycling, motorcycle pleasure biking, birding, wildlife observation, picnicking, and swimming.

Lake Berryessa is a swimming and water skiing site for enthusiasts. The narrow portion of the reservoir, nearest to the Monticello Dam, is referred to as the "Narrows," and is sometimes busy with boaters on holidays and weekends.

There are several resorts with marinas at the lake, as well as nearby Lake Solano County Park located west of Winters, California. Day use areas include Oak Shores and Smittle Creek. There are swimming areas closed to boats and other watercraft, as well as several hiking trails.

Lakeshore lands, facilities, and concessions in Napa County are managed by the Bureau of Reclamation. However, five of the seven resort concessions that expired in 2009 have not yet become fully operational. Based on rules against exclusive occupancy of federal recreation lands, about 1,300 long-term resident trailers were removed from the resorts when the 50-year concession contracts expired. In the following years, public usage of the lake dwindled due to government delays in formulating a future plan.[6]
Adjoining the Lake Berryessa Recreational Area is the recently designated Cedar Roughs Wildlife Area. The Northern California Coastal Wild Heritage Wilderness Act of 2006 set aside the former study area of 6,350 acres (25.7 km2) located 1.8 miles (2.9 km) past Pope Creek bridge on the Pope Creek arm of Lake Berryessa. The wildlife area can be accessed by car or boat, although there are no maintained trails (as yet). Hiking can be difficult as more than half of the wildlife area consists of Sargent's cypress, which covers 3,000 acres (12 km2) and is relatively pure genetically. It is the second most widely distributed cypress in California, and was named for Charles Sprague Sargent (1841–1927), the founder and director of Harvard University's Arnold Arboretum and author of the 14-volume Silva of North America. The area is jointly managed by the Bureau of Land Management and California Department of Fish and Game.[7]
Notable plants in the area include sergeant cypress, white alder, leather oak, Jepson's navarretia, and Bridge's brodiaea.

Fish species in Lake Berryessa include bluegill, brown trout, channel catfish, chinook salmon, green sunfish, kokanee, largemouth bass, smallmouth bass, rainbow trout, spotted bass, white catfish and Sacramento pikeminnow. The introduced species of carp, is also present and feeds on organic matter, water snails, bloodworm, fresh water mussels as well as their own eggs.[8]

The east side of the lake has a 2,000-acre (8.1 km2) Wildlife Management Area managed by the California Department of Fish and Game that protects wildlife habitats for such species as mountain lion, black-tailed deer, western rattlesnake, raccoon, skunk, osprey and golden eagle.
Lots Available
1268 Steele Canyon
1013 Arroyo Linda
253 Sugarloaf
259 Sugarloaf
1070 Westridge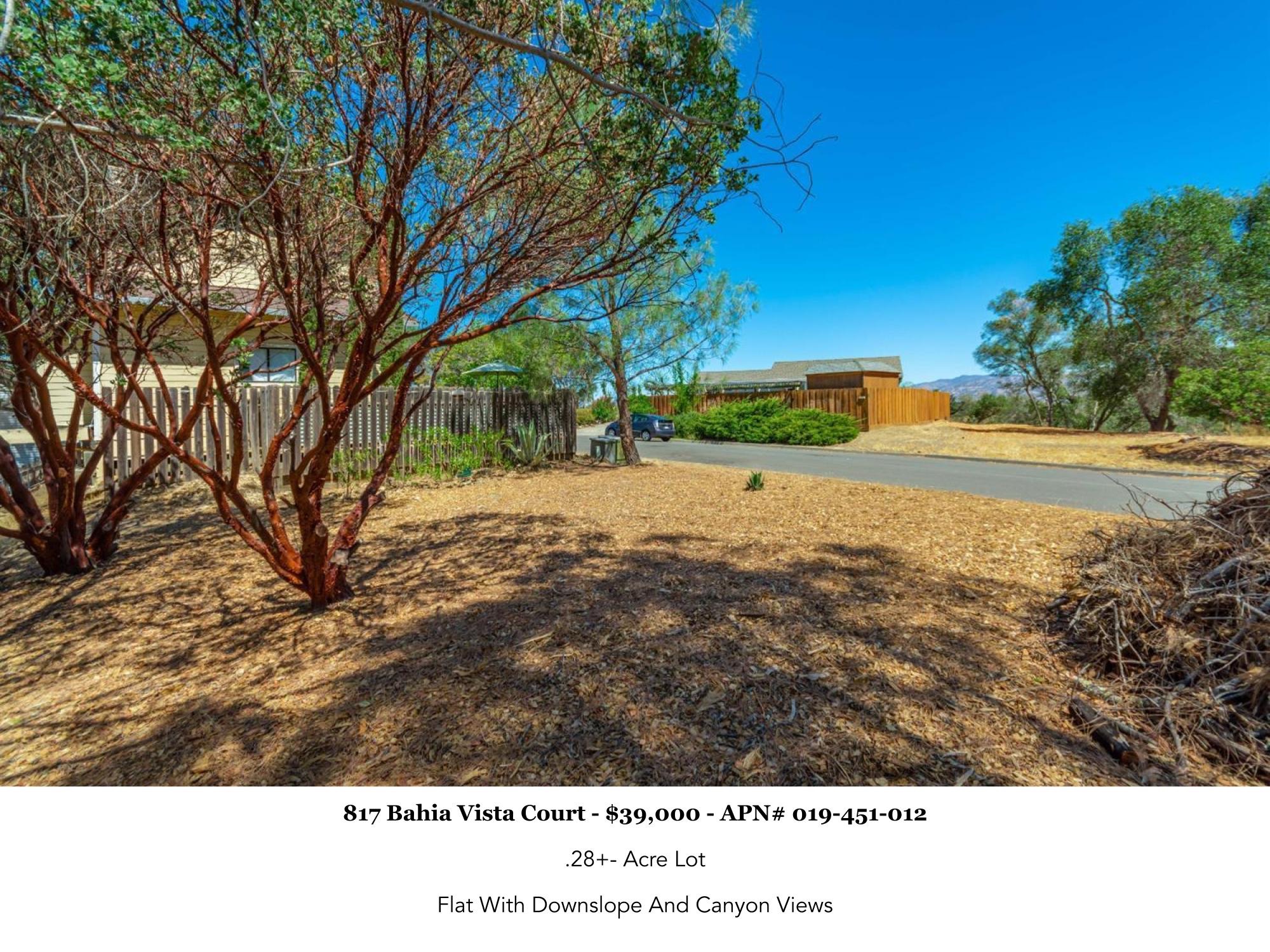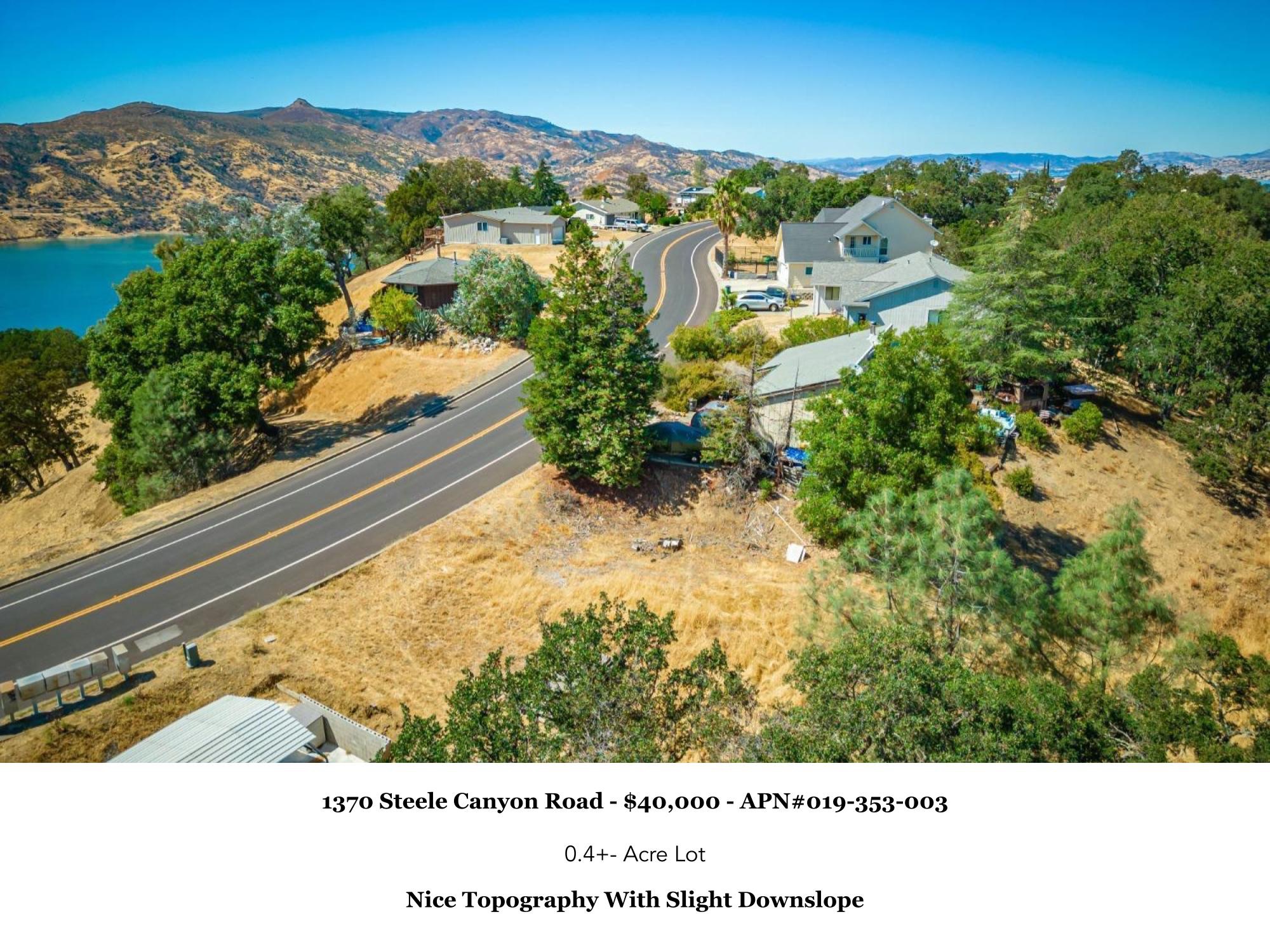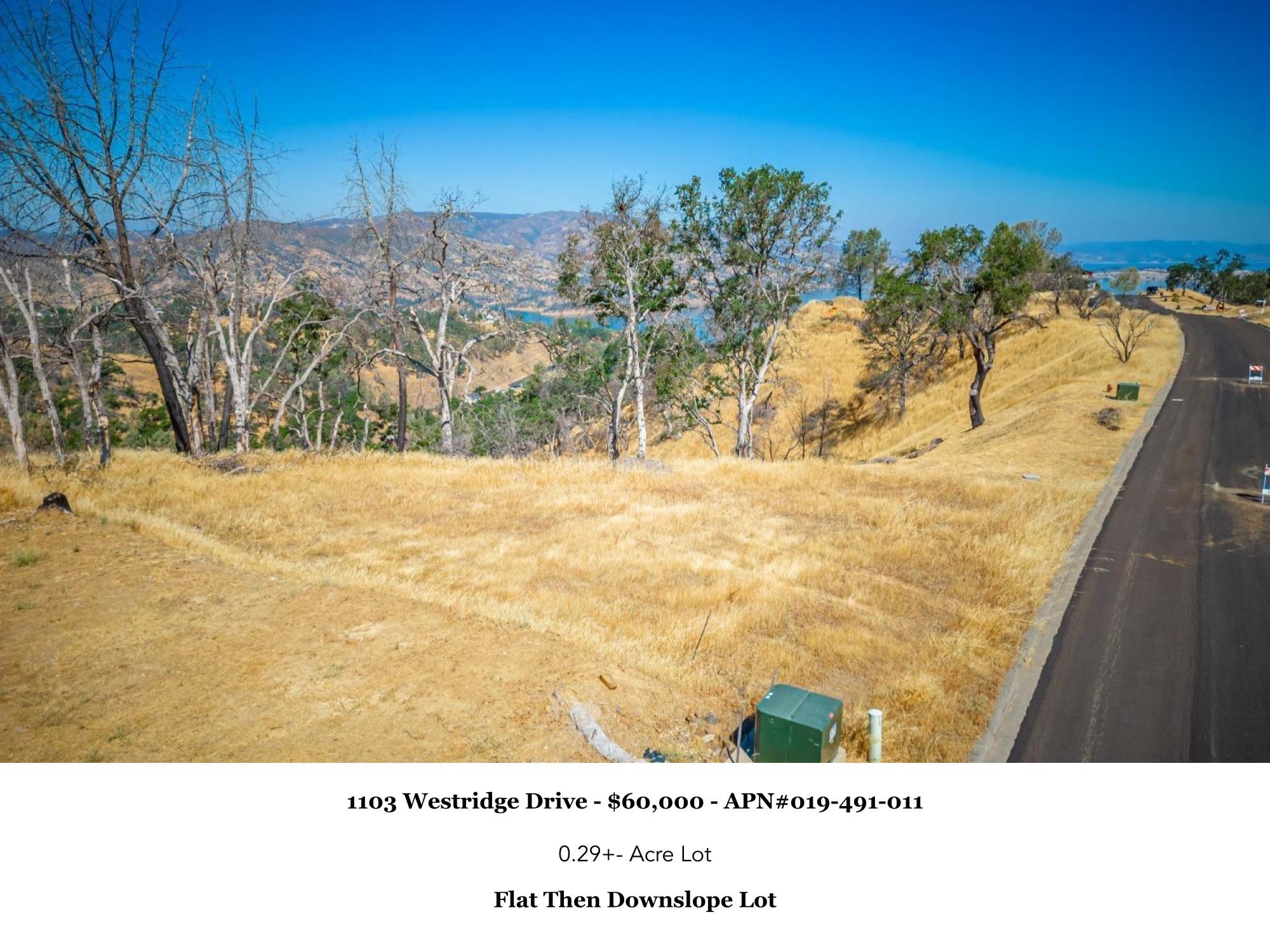 Summary of Lots Available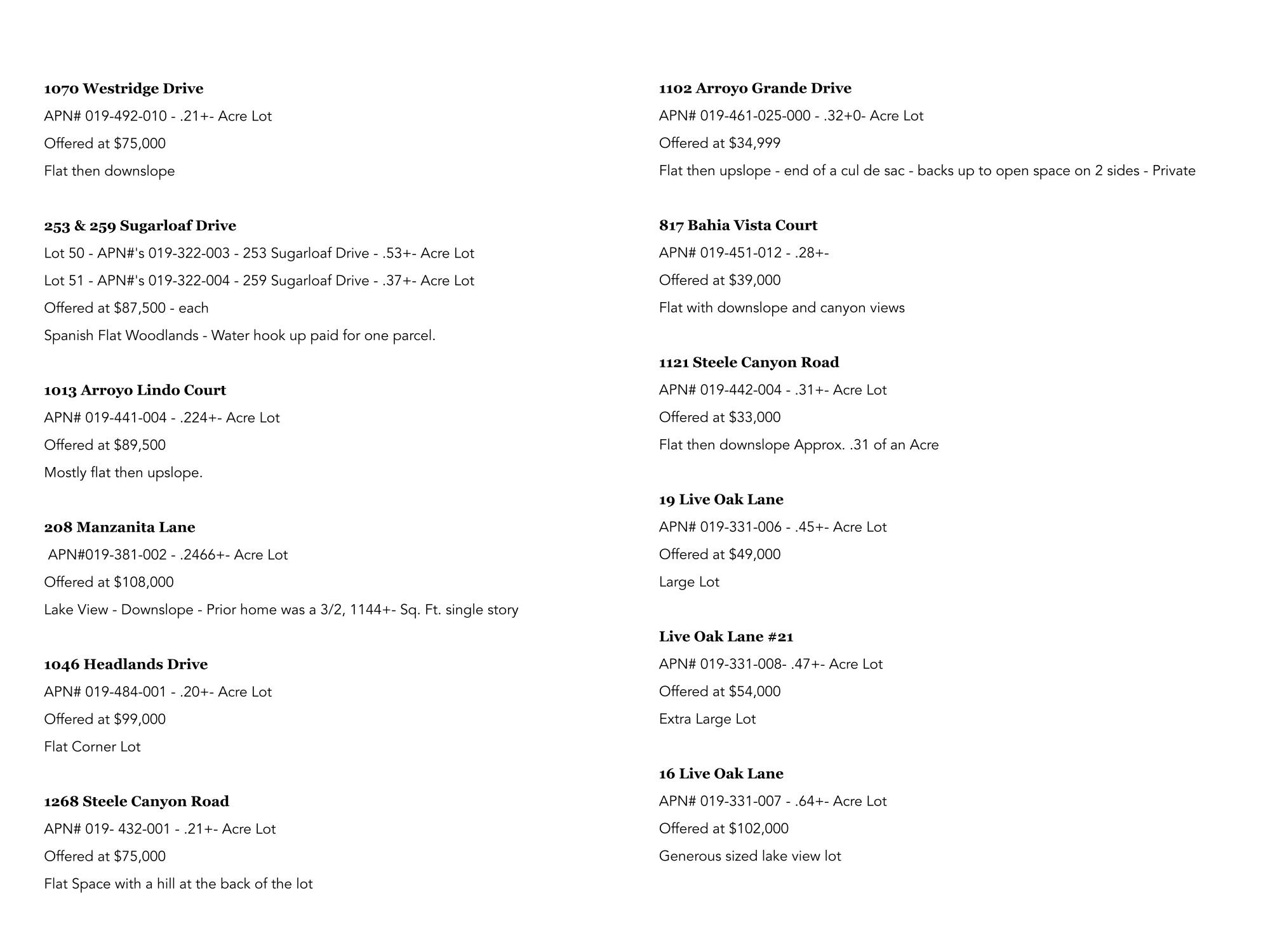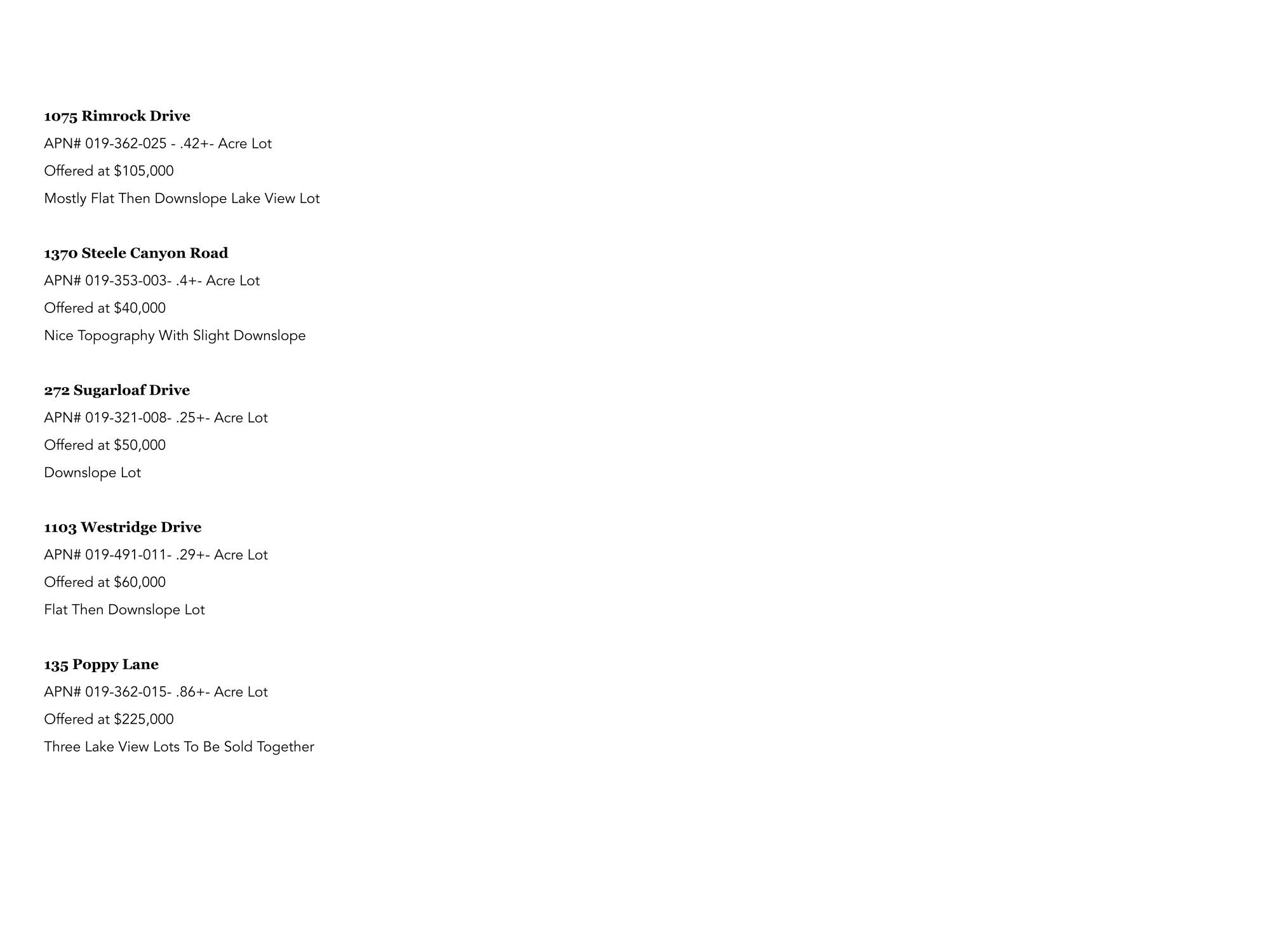 Map Location
Lake Berryessa in Napa County